Musictrip Scotland September 2019 - Flying Dutchman
Cruise overview
Sailingarea
Schotland | Schottland | Scotland
Embarkation
16-9-2019
18:00
Oban
Debarkation
23-9-2019
10:00
Oban
Costs
985,00
Capacity
24
Currently 6 available!
availability subject to change
Complete reservation
With the Flying Dutchman we make a splendid music and whisky trip through Scotland. This trip is a combination of sailing, making music and visiting famous whisky distilleries.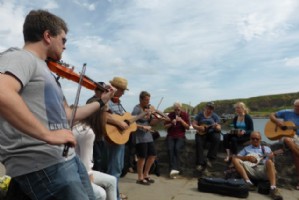 Our music and whisky journey takes you through the most beautiful part of Scotland. If there is still untouched, wild nature in Europe, we will find it on the islands on the Scottish west coast: the inner and outer Hebrides.
This journey is different from others, because nothing has to be done or established from the start. We make music and sail to the next day's destination.
We can spend evenings in the pub or on the boat. If you like Scottish music and Irish folk, this is your chance!

Please note that ports and destinations may be subject to change due to unpredictable weather conditions. The captain aboard will determine the final itinerary regarding weather forecasts. Please do not worry if we deviate from the original plan, because it just means that we will most likely visit another beautiful area.

Iternerary:

Day 1: Boarding in Oban
Day 2: Mull - Tobermory
Day 3: Iona & Staffa
Day 4: Colonsay
Day 5 & 6: Jura (Isle of Jura Music Festival)
Day 7: At sea back to Oban
Day 8: Debarkation in Oban

We have divided the prices into two categories, because our double cabins are of different sizes
Prices per person
| | |
| --- | --- |
| Standard cabin (shared) | EUR 985,00 |
| Standard-PLUS cabin (shared) | EUR 1.085,00 |
| Private cabin (limited availability | EUR 1.485,00 |
Included:
Cabin (shared) in the booked category with private shower and toilet
Bedding and towels
Halfboard *, including coffee, tea, milk and juice during the meals
All charges regarding port fees, tourists fees and fuel expenses
* With half board you have also the possibility to discover local specialties on land.
Not included:
Drinks on board (besides the included drinks during the meals)
Transfer to the port of departure and port of arrival
Personal expences
Travel insurances
Complete reservation